---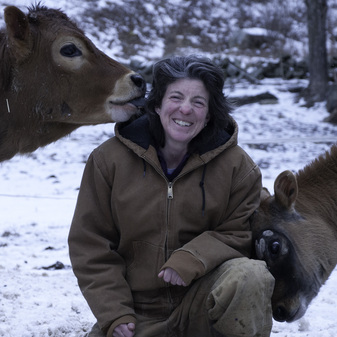 In 1999 Lisa Kaiman opened Jersey Girls Dairy in Chester Vermont. The Princeton, N.J., native who first milked cows as an aspiring veterinarian was determined to make it work. She spent some eight years working on other people's farms, studying what she liked and didn't like. She bought an old farmhouse that had no running water or electricity and started remodeling. No matter what the circumstances she kept up her mantra... We Are All What We Eat.
It wasn't long before she was milking 2 dozen Jersey Cows and selling raw milk to some of Vermont's finest cheese makers and to her neighbors as well. Soon she started selling veal to a few local restaurants. Through hard work, innovative thinking and sincere love of her animals she has grown her farm and on-farm store into a thriving business.
In 2012 Lisa was featured at The James Beard House in New York City. The "Vermont Veal Renaissance Dinner" was a celebration of her forward thinking veal operation and how a small dairy farmer can make humanely raised veal an economically viable solution. Her products were showcased in a 5 course menu to a sold out crowd.
Lisa's milk, eggs and cheese have made their way to several New York City restaurants through Vermont Quality Meats distribution. Her products are available to the public in NYC through Eat Food Distributors CSA.
---
---