| | | |
| --- | --- | --- |
| | Jersey Girls Dairy & Farm Store | |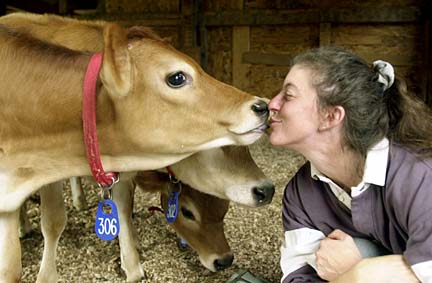 Our farm was established in Chester, Vermont in 1999. We milk a small herd of registered Jersey cows. We raise our bull calves for cruelty-free veal, a small number of A2/A2 genetics heifer calves to move towards a 100% A2/A2 milking herd, and the majority of our calves are crosses with wagu beef bulls for the most fabulous beef. Our Jersey girls live an excellent quality of life on our cow comfort based set-up and farming philosophy. We feature intensive rotational grazing, non-fermented feeds, and an open space barn life.
All of our cows are Registered Jerseys, our entire operation including dairy herd, veal program and laying hens are listed with Buy Better Dairy. We welcome visitors to the farm to meet the girls, talk with Lisa Kaiman the owner/farmer, and learn more about small dairy farming in Vermont.
We operate a retail store, Jersey Girls Farm Store, on our farm property where you can purchase products from the dairy as well as delicious prepared foods made with our ingredients and other local delights!
News From the Farm...
Visit our Store now located right at the Farm!
Stop by and say "Hi" to the Girls!
Also selling raw milk on the Farm!! - Come and get it!!
Our Jersey Boyz Sausage was selected as a finalist in
American Made Awards!!!!
Martha Stewart - American Made 2014 - Nominee Badge
---